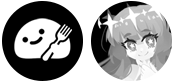 Infinite Lives
June ~ July 2020
Come sit with us !
#infinitelives2020
Infinite Lives is a series of chiptune live-shows, curated by A Bit of Chiptune and All You Can Eat.
It is also a response to circumstances of the pandemic. We are streaming these shows online - from homes, to homes.
The benefit of online streaming is that we can put the stage nearly anywhere.
It's an opportunity to celebrate diversity and creativity in and around the Chiptune Medium.